BlueJeans Events
Host and manage live interactive events, town halls and webcasts for large audiences around the world.
BlueJeans events solutions
Interactively engage with any size audience
BlueJeans Events brings a whole new level of interactivity to all-hands meetings, town halls and webcasts. Engage up to 15,000 attendees with immersive video, Q&A, polling and large meeting controls.
Employee all-hands meetings
All-hands meetings should include everybody. Transform your next all-hands meeting into an open forum where anyone, anywhere can ask questions, explain what's on their mind, make announcements or share information — all through a live, interactive webcast.
Marketing webinars
Engage customers and prospects with a modern, interactive webinar experience that brings together HD video with Q&A, polling and rich moderator controls. Now with Marketo access to nurture your leads pre- and post-webinar.
Training educasts
Transform online education and training events from one-way webcasts to interactive learning experiences that engage learners through immersive video, audio and content sharing, multi-way idea exchanges, Q&A and polling.

How it works
BlueJeans Events merges the best of live video conferencing, content sharing, and live streaming capabilities into a single, easy-to-use service that connects and engages everyone.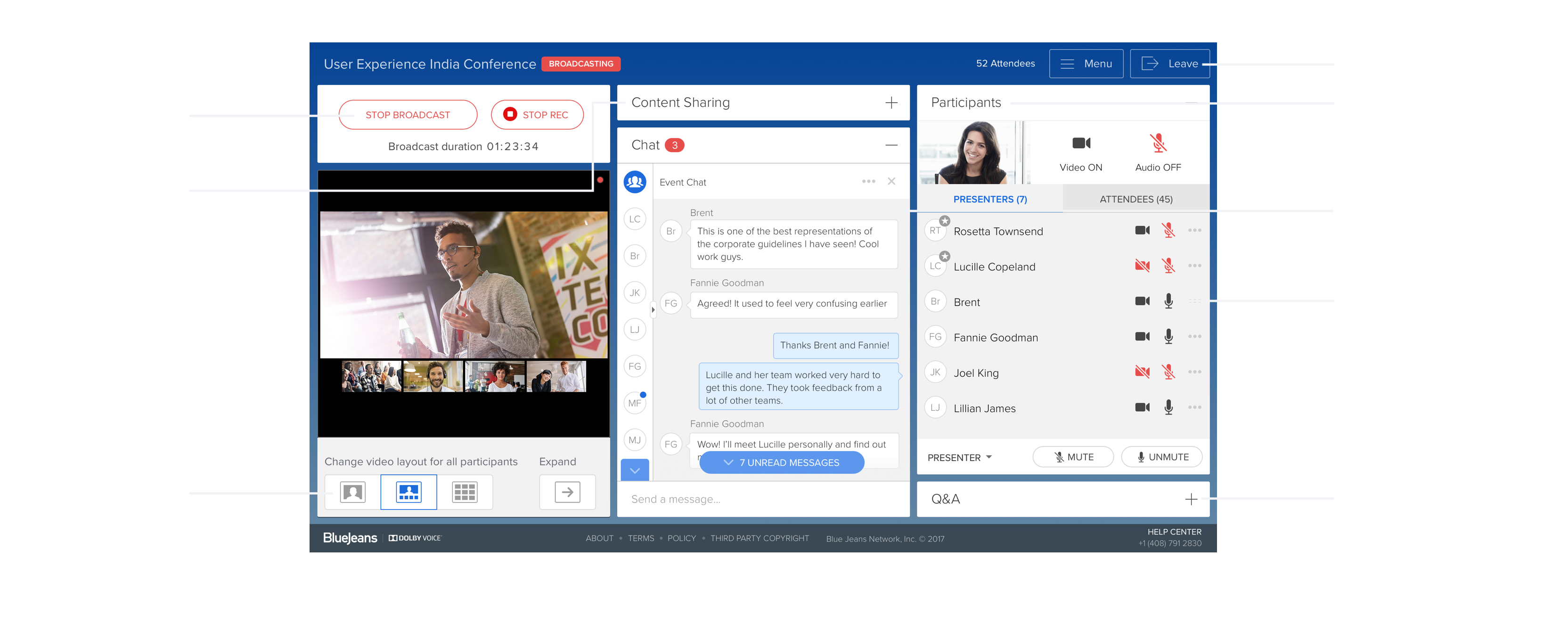 BlueJeans Events features
Everything you need to make your events successful
Large-scale event support
Host reliable live events with up to 15,000 attendees worldwide. Stream to Facebook Live so millions can view the content.
Moderator controls
Ensure your events are stress-free with easy master control management and access.
Audience engagement tools
Keep audiences engaged with interactive tools such as Q&A, event chat, polling and hand raising.
Event cloud recording
Capture entire events for future playback and sharing.
Device-agnostic
Join from any video-enabled room, computer, or mobile device. Easily access events on browsers without downloading an app.
Large bandwidth savings
Optimize the bandwidth consumed by event viewers by caching multiple video streams to a single stream via the BlueJeans Accelerator.
BlueJeans Events features
Everything you need to make your events successful
Use video to make your events more professional, engaging and effective. See how BlueJeans can fully support your interactive events.
A/V equipment specs and recommendations
Moderator and presenter training
Mock event walk-throughs with service experts
Post-event reports and analytics
Ongoing 24/7 premium support
Live stream to millions worldwide with BlueJeans for Facebook Live
Connecting the power of BlueJeans Events with the reach and global audience of Facebook. Live stream your interactive video events directly to Facebook or Workplace by Facebook with a single click.
Get in touch with our consultants to arrange a demo and make cloud-based meetings easy with the tailored telecommunications solution your business deserves.